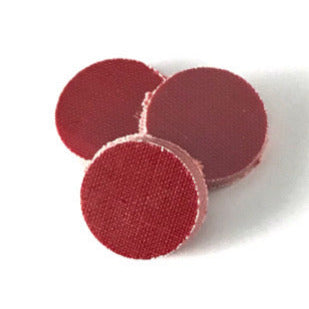 Impact/Sound Pads
Kamikaze Impact/Sound Pads are exactly as their name.  These pads are used for Carbon Fiber Shafts on top of the ferrule, but can also be used on maple wood shafts as well.  Extremely durable; these pads help quiet the sound of the carbon fiber shaft, but also withstand the impact of leather and breaking tips.
 Installation Recommendations
These pads are ROUGH cut round and are approximately 14.5 MM in diameter and 1/8 inch thick.  They should be installed by an experienced cue repairman using a lathe.  These pads have to be thoroughly sanded top and bottom (220 Grit Recommended) before gluing.  It is recommended that a carbide lathe cutting bit be used when trimming down, or facing the pad.  You can leave them thick, or they can be faced off thin, for a thinner looking pad.   For final cutting to match up with the ferrule, we recommend Lenox Carbide Utility Blades.  For final finishing, we recommend step sanding with 400, 600, 1000 and 2000 grit to get a lustrous shine and vibrant color.  The super glue that is also recommended is Loctite Super Glue Professional Liquid.  We also use loctite super glue on all our leather and break tip installations.